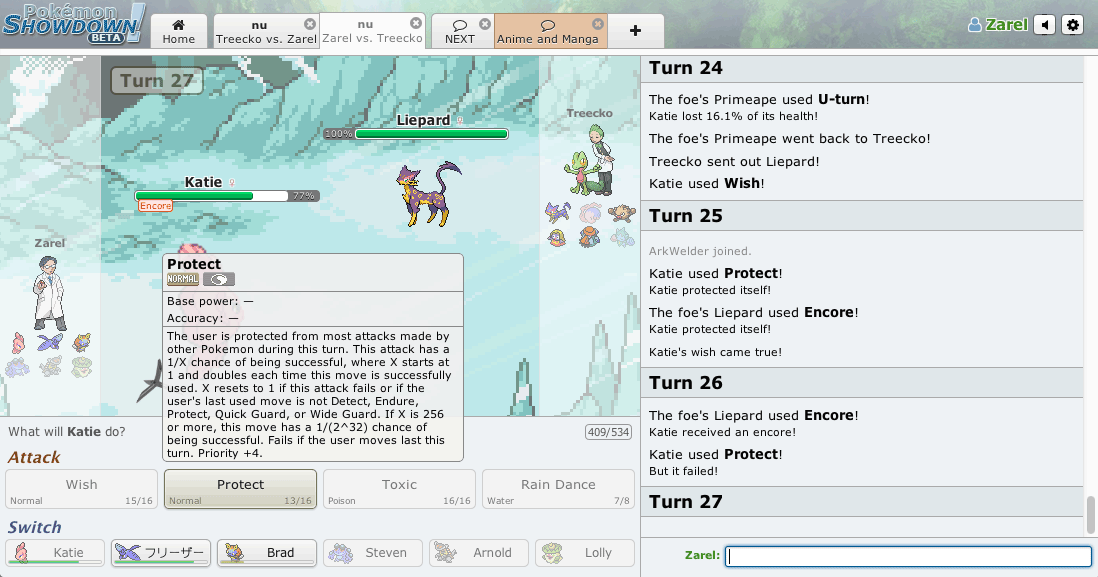 Pokémon Showdown is a Pokémon battle simulator. Play Pokémon battles online! Play with randomly generated teams, or build your own! Fully animated!
Links
Tournaments updates, Triples formats, and suspect test
Our tournament script has gotten better, so the Tournaments room is now our second Official Room! It's a fun alternative to the ladder, and supports several formats like Round Robin, Single Elimination and Double Elimination. We've worked hard to get here, so you should give it a try!
We also have some new XY Triples formats: Random Battle and Pikachu Tournamentchu on the ladder, and some others off! Pikachu Tournamentchu is a format where you must use Pikachu and any Pokemon that's not fully evolved.
We have some suspect tests! OU is testing Aegislash (2700 COIL to vote). The test ends on Saturday, July 26th. LC is has a discussion-based suspect (1950 COIL to vote), ending on Friday, July 25th. Good luck, everyone!
—Detective Dell on Jul 18, 2014 Read more / comments
The Player & Social Media Room launch
We've launched a PS webzine! Named The Player, it's a source for articles written by the community related to all aspects of PS. Read the introductory thread first, and if you're interested in writing for us check out the article submission guide and contributor guidelines (they don't take too long to read, and are well worth doing so). If you've got a brief question you'd like to ask, our SQSA thread should cover you there. We've had a fantastic response already in terms of articles and art, and expect to release our first issue in late July. We'd love to have you as a contributor too!
To tie in with the release of The Player, the Youtube room has been renamed Media! It's still the same room and still retains a focus on Youtube, but it's had a rename in order to emphasize that other social media sites like Facebook, Twitch and Twitter are very welcome as discussion topics in the room.
—Scene on Jul 10, 2014 Read more / comments