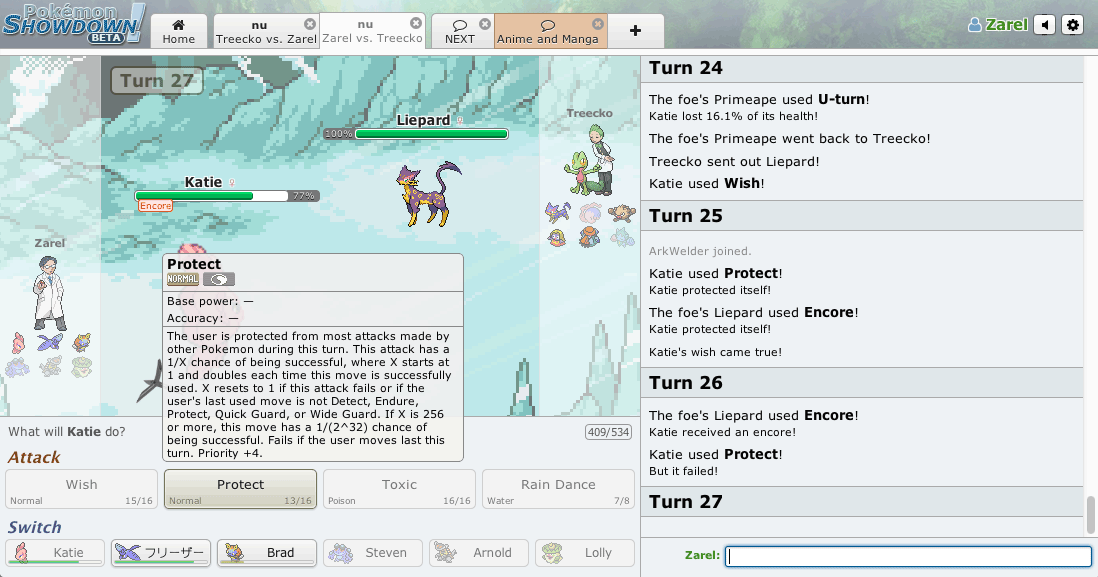 Pokémon Showdown is a Pokémon battle simulator. Play Pokémon battles online! Play with randomly generated teams, or build your own! Fully animated!
PS! Thanksgiving News (weekly holiday special)
Happy Thanksgiving everyone, and welcome to Pokemon Showdown's next update on weekly news!

The Pokemon XY and Pokemon Games rooms have been removed from the server. For those who are disappointed with this change, you may be excited to know that we've decided to merge the two together to promote Pokemon gaming discussion as a whole. The merged room is named: Pokemon In-Game. Feel free to check it out, as the Room Owners have lots of interesting events planned for the near future!

Joim is organizing a series of Scavenger Hunts for your enjoyment on the server! Joim also created a Scavenger room in which you're free to use to participate on the challenges and discuss past and future ideas for the games and rules here. Read more at its Smogon thread.

XY OU is currently suspecting the Gengarite item. We'll be awaiting the final decision within the next few days. Feel free to discuss more about it real-time with others in the OverUsed room.
Sneasel has been banned from XY Little Cup! Smogon has a thread with the details.

In other news, users Nani Man, Flame Emblem, and Coronis have been appointed Drivers on the server for their exemplary contributions to the server, consistently leading discussion and being helpful to all sorts of users. Congratulations!

That's all for the updates today. Stay tuned for next week and have a nice holiday!
—Detective Dell on Nov 28, 2013 Read more / comments
Pokemon Showdown Arts & Crafts: Art Contest III
Hello, and welcome to the third weekly art contest hosted by the Arts and Crafts Room!
-Anyone can enter the contest! All you must do is submit your submission to this thread!
- After the week is over, the Arts & Crafts staff (%, @ and #) will vote on three artworks they like - their first choice gets 3 points, their second choice gets 2 points, their third choice gets a single point.
- If more than sixteen people enter, the top three point-scorers earn room voice! If ten to fifteen people enter, the top two point-scorers earn room voice. If less than ten people enter (;_;) then the top scorer gets room voice alone. So if you're reading this and aren't sure if you want to try? Your odds of getting room voice increase if you do, so dive in!
- People entered that are already Voice must win 3 contests, and will win Driver as a reward!
- This week's theme is: A Pokemon Fusion (Two Pokemon Together) - This must be draw with any median. NO sprites allowed.
- Finally, some rules - don't insult or demean others' work, and don't pc+ post here. The contest ends on November 4th.
HAVE FUN!
—haunter on Nov 21, 2013 Read more / comments
Open-source
Pokémon Showdown is actively developed in the Pokémon Showdown GitHub repository. Come lend a hand!